PinPoint 2.0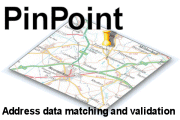 Pinpoint from Wavetech Consultancy provides an integrated solution for your address data cleaning needs.
Pinpoint allows address data from various data sources, including mobilising systems, ODBC databases, Microsoft Access and CSV format text files, to be imported and validated against the Address-Point or NLPG data set.
Validated addresses are then available for further analysis for example by producing reports or plotting the data on a GIS. Other relevant data may also be imported into Pinpoint and made available for analysis, along with the corrected address. These 'Associated' data are optional and are not processed in any way.
Pinpoint used a combination of text pre-processing - for instance, replacing 'ST' with 'STREET' - and custom search filters to enhance its automatic matching process.
Addresses that Pinpoint cannot automatically match can be manually searched, selected and Approved
North Yorkshire Fire and Rescue Service
deployed PinPoint in 2008,
Staffordshire Fire and Rescue Service
in 2009

Learn more